Monday Alumni: Jennifer Kachler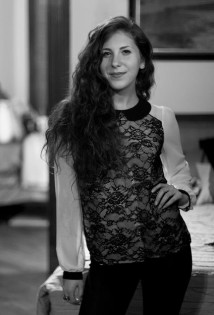 Update: Student Jinnifer Kachler has been featured on the David Lynch MA school page!
David Lynch is more than my favorite film director, he inspired a huge transformation in my life, a decision that has shifted my world for the better. In 2011, I read his book "Catching the Big Fish" and I immediately knew, Transcendental Meditation was what was missing from my life. 3 years later, I'm now a graduate student in his newly created David Lynch MA in Film program. Every student practices TM twice a day, amidst writing, producing and directing their master thesis films. David Lynch personally judged my short film "Horizon," my SVA thesis film from 2009, as 4th place in the short film competition to gain acceptance into the program. Currently I'm writing a short film titled "Kennedy Hill" set in the late 1930s in America about a 17 year old girl, Grace, who finds out she's adopted. She discovers that the necklace she's worn around her neck every day wasn't a gift from her parents but is a family heirloom of her birth parents. Heartbroken and deceived, she journeys away from home to find out why she was put up for adoption and who her true family is. This concept is inspired by my Nana
who was adopted in 1925 and never knew her birth parents. Her life inspires me to tell stories about family connection, a universal theme everyone can relate to. Without adoption, my life wouldn't exist and I'm grateful to the system that provided my grandmother a loving family who raised her to create the family I am supported by now. Family is much deeper than being connected to people by blood, it's a bond that cannot be broken. Everyone shares a family whether you are born into one, choose one in your friends or realize as human beings, we are a united family.
Link to video: