Parents' Corner: Elaine Pasqua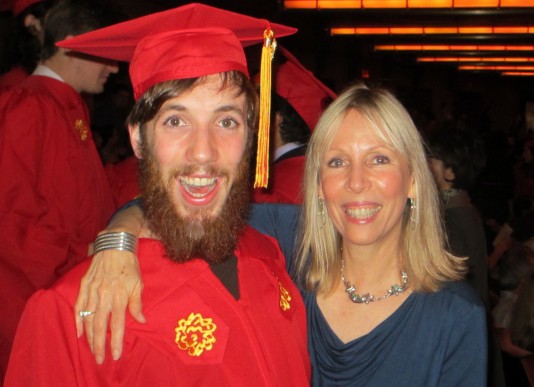 Evan Cohen, SVA Film '15, did a good job of making his mom happy with his career choice. His mom, Elaine Pasqua, thinks SVA has a little something to do with it…..
Guiding our children through the college selection process is one of our greatest challenges as parents. Some of us get it right and some get it wrong. We had it easy. My son Evan started making movies at 9 years of age when my husband taught him how to make stop-action movies with Playmobil figures. From that day on, film-making became his passion.
We considered many film programs. Ultimately SVA seemed like the best fit for Evan. We liked the fact that he would immediately be hands-on with film projects and the student faculty ratio was small.
Higher education is an expensive investment. As a parent who paid for my son's education I often asked myself, "Is this worth it?" I sacrificed my 401K for Evan's future!
SVA has an impressive faculty. Many are multi academy awards nominees and winners. Most have worked in their field for a long time which helped students prepare for the real world. Evan's education was practical. He knew what to expect outside of the walls of SVA. Most importantly, the professors care about their students and develop close relationships for mentoring. Evan graduated in 2012 and still talks about the influence that certain professors had on him both professionally and in real life applications.
For me, graduation weekend was the culmination of this reflection. We attended all three days of the Dusty's film festival, the premier of the senior thesis films. I was blown away by the talent that these students developed over their years at SVA. The story-telling and writing was phenomenally clever. The cinematography was beautifully impressive, and the editing was state of the art. Many films were as professional as one would see in the theater.
At graduation I sat and observed this wonderful tight-knit community. There was a bond between students and professors that most don't experience at larger universities. I speak at colleges across the country and know of the different cultures from one campus to the next. Art schools bring the most imaginative people together. Those students feel free and are encouraged to feed off of each other's creative energy. I certainly felt that energy at Radio City Music Hall that day and realized that SVA was worth every penny we spent on Evan's education. He could not have been at a better place. Today he is thriving in his own video production company and looks back at his years at SVA with profound gratitude, and so do I!