Student Blog: Chioma Obaji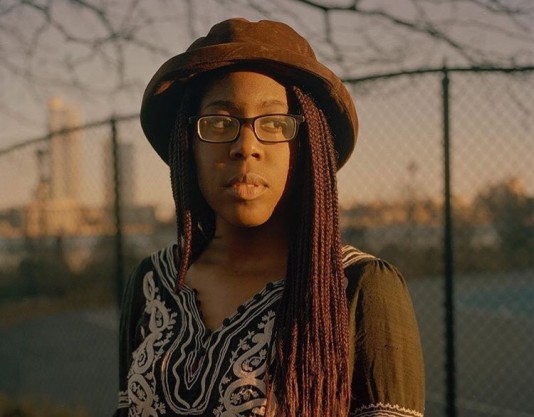 Third year directing student, Chioma Obaji, is trying new genres and new styles of filmmaking – an experimental, Japanese-ballet inspired music video.
I directed something very experimental for myself this semester. I worked with dancers for the very first time and decided to shoot a music video for the song "Hands" by Point Point. My film is inspired by the female Japanese Hannya demon, who is often portrayed as a serpent. The video features two dancers competing against each other, driven by jealousy and delusion. I envisioned using ballet and contemporary dancers because they radiate so much grace and fluidity in their movements, and I really wanted to capture their essence in my film. The song is intense, but it also has classical piano moments that I felt were perfect to show off more recognizable ballet movements.
This shoot was probably one of the more challenging processes I have been involved with, due to the plethora of challenges I faced. I went through three different dancers before I even had a solid cast. Two ended up going through hospitalizations for health issues, and the other was committed to another project that conflicted with my shoot schedule. A week and a half before my shoot I found the perfect girls by chance, one of whom was the roommate of a crew member.
We met at an NYU dance studio to work on the choreography over the next couple of days for the shoot on Saturday. I was nervous, but my dancers were able to choreograph the entire four minute song in that short period of time. On shoot day I was scrambling but somehow calm. I had picked up my rented Dana Dolly the day before, but the rental house did not provide me with the poles, which rendered it useless. For a moment I was frantic, but my assistant director called me that night and told me not to worry about it. They said that they'll find poles and have them on set the next morning. Right before the call time my AC showed up with poles from Home Depot that fit the Dolly and made it work seamlessly. I was relieved, and it was time to shift my focus to set design.
I told my crew, "I want to hang plants from the ceiling." And they looked at me like I was crazy. They told me there was no way it was going to stay up properly and it wouldn't look as good as I imagined. I told them they should try it out anyway and if it didn't work they could come back and say, "We told you so." They ended up using 3 safety chains and 3-Strand Manila Rope for each plant to hang, and it worked perfectly. The 5 plants hung securely for the entire shoot with no issue. Even after a couple setbacks before and during the shoot, everything came together in the end – all thanks to my crew and phenomenal assistant director, Bouquet Napussorn. The process as a whole, be it new and experimental for me, was challenging but most of all rewarding. And I hope to make similar projects in the future.