Student Blog: Tal Drori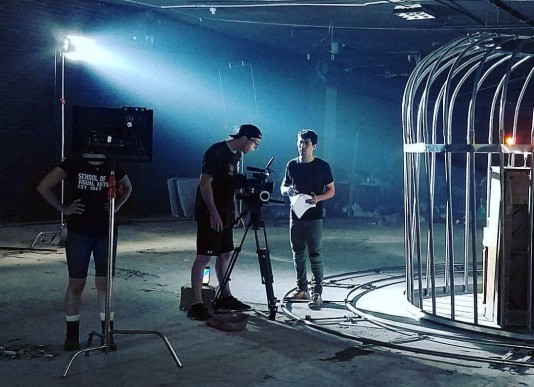 Tal Drori started with vivid ideas for his gothic musical — but the rest was a unique collaboration. 
There were many ideas running through my mind while deciding what to make for my senior year thesis film. I knew I wanted to make a musical, but I didn't want it to be a traditional one. I wanted to make a gothic musical about a man who can change his identity simply by changing his outfit. I had very vivid scenes in my mind and I tried find an organic way to connect them all together. I decided that the best way to approach this was to involve my entire cast and crew in a massive artist collaboration. My cast and crew all contributed their ideas and talents to the project, expressing themselves through costumes, set pieces, singing, dancing etc…
It was amazing to work and collaborate with a cast and crew of more than 70 people. I got to know each of them and what drew them to working in film. My incredible producer Anna Tang helped me sort through the craziness dealing with 50 phone calls a day. My editor Matt DeJesu reads my mind and does an amazing job connecting all the scenes together in a creative way. Using visual effects made by the amazing artist Nick Avloshenko we are elevating the movie and help me to express myself as I wanted.
Check out some behind the scenes photos from Tal's shoot below!