Student Wednesday: Rory Pfotenhauer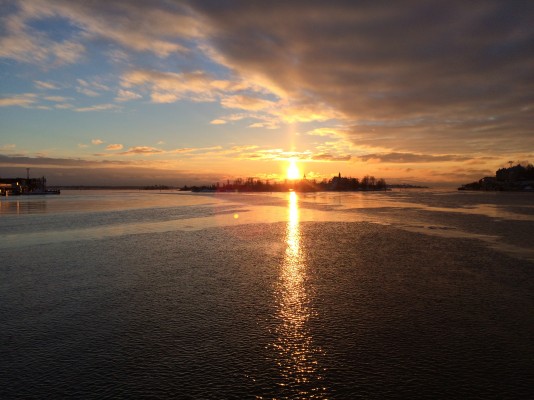 Building Bridges 2014-2015 by '15 Thesis Student, Rory Pfotenhauer:
Within the space of a year: thirteen days in Zürich, eleven days in New York City, fourteen days in Helsinki, and two long interim periods. Thirty-eight days at fifteen hours a day is 570 hours. Two nights, I didn't sleep at all, add seven twice equals fourteen, leaving us with a grand total of 584. In each and every hour we did something new and different, pushing each other deeper and deeper into experimentation. Here are some unedited excerpts from my BB journal:
-Arrived in Switzerland yesterday, what a rich place. Zhdk (Zürich University of the Arts) facilities are astonishing, concrete, high design! Met the other students last night for introductions, no one realizes the SVA students are jet-lagged, on total auto-pilot. Everyone communicates well in English. Twenty students, nine nationalities: American, Finnish, Swiss, German, Danish, Polish, Swedish, Norwegian, Iranian. Most people seem to speak three languages fluently. Fell asleep with a baguette in my hand.
– Just embarrassed myself. I'm not a public speaker, performer, anything. Katarina and I were assigned to openly respond to a prompt about literature as emancipation. She's a physical actress and somehow convinced me that a synchronized choreographed interpretive performance would be perfect. I missed all the cues and kicked a can of pumpkin purée so hard it broke my toenail in front of twenty five strangers. But everyone complimented me on my naïve performance… Feels refreshing to make mistakes. Oh and Kundalini meditation this morning actually worked. I meditated. There is a rumor circulating that we will be forming bands tomorrow as an exercise.
– Yesterday was the finale of Zürich. The school allowed us use of their multimillion-dollar super theater as an unsupervised party space. We danced until 7:00 AM, cleaned everything up, and said our farewells. I think the best party I've ever been to. Booked myself an extra day here and spent it eating cheese and walking around the lake. Got trapped in a robotic bathroom that cleaned itself while I was locked inside. Silvan invited me over for dinner where we melted more cheese over pineapples and potatoes. Back home tomorrow.
– BBNYC has officially begun after months of planning and prep. I picked up a few students from the Swedish contingent in Chinatown and accidentally took them to an upscale neo-Chinese restaurant. They didn't mind, they're blown away by everything. Most people's first time in the U.S. Curiosity reminds me of when I arrived here. Took my group on a scenic tour of south Williamsburg. Everyone is apprehensive for 48 hour festival, usually we create and show our work in the same day.
– 48 Hour festival was a success. My group managed to freeze a giant block of ice and project randomly harvested 8 second clips from youtube onto the surface. Sang karaoke all night in K-town and haven't slept for 2 days.
– Helsinki! Sven and I arrived three days early to meet Magda and Silvan. Staying in an AirBnB, I'm sleeping in a toddler's room. City is effing cold and dark. All is covered in ice, you don't go for a walk, you go for a scuttle. Excited to begin again.
– Public sauna! Honestly didn't realize it was a completely nude affair, somehow thought you kept a tiny towel around your waist… but nope. Go in for 15 minutes, go stand outside in the snow while enjoying a beer, and repeat 5-15 times. Loved it and will sleep soundly tonight.

– And it's over. What started out as something I approached with caution has become an idea I am utterly devoted to. Fearless freedom of expression. The most educational experience in my adult life not to mention I've made lifelong friends along the way, something that seems to happen less with age. I'm in the preliminary stage of organizing a rave as a reunion for everyone, possibly 2016 or 2017.
And back to real life now.
Rory Pfotenhauer