SVA Casting Mixer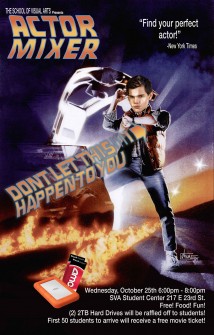 Looking for that perfect someone to play your lead? Meet JohnMichael Mitchell, SVA's new casting director. He's organizing a mixer for YOU to meet NYC actors.
As the Casting Coordinator, it is my job to assist the BFA Film and Animation Department, as well the MFA Film Department, in supplying talent inside the classroom for the purpose of enhancing the students' learning experience. I also work with students by discussing their theses, and help them find the actors they need. It is very important for film students to meet actors, and to know how to communicate with talent in this city.
My office also works alongside the BFA Film and Animation department to host the annual SVA Actor Mixer. This is a great evening where Actors from the city get to know SVA students, and hopefully build connections to work together in the future. Sometimes it can be difficult for students to get to know actors on their own, so SVA is bringing the actors to the students. Come meet actors from NY! Both SAG , as well as non union, actors will be at the student center from 6p-8pm on Wednesday, October 25th.
Who: SVA Students and NY Actors
What: Actor Mixer
Where: SVA Student Center
When: Wednesday, October 25th from 6-8PM
Why: This event is for SVA students to meet eligible, NY actors who are interested in being cast in Thesis films. Come enjoy free food, and refreshments, (2) 2TB hard drives will be raffled at 7:30pm. First 50 students will receive a free movie ticket.