SVA Faculty Friday Blog 5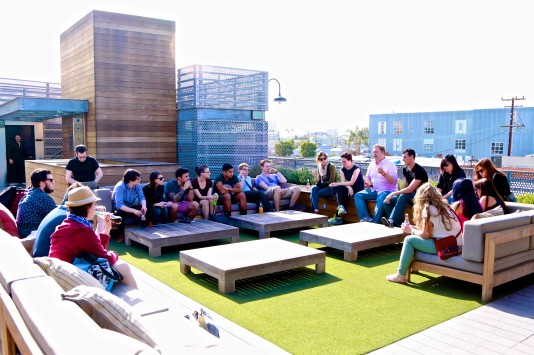 FACULTY BLOG
WEEK OF 3/10
SAL PETROSINO, Director of Operations, talks to us about the latest SVA in LA trip.
The SVA in LA program is intended to present to students the personal encounters with leading filmmakers to share and demystify the journey they took to achieve where they are today. Throughout the week we met with a variety of filmmakers and animators – many who attended SVA and are living and working in L.A. Filmmakers such as Randall Emmett, Bryan Singer, and animation artist Alex Kupershmidth (Frozen) all took the time to speak to us, allowing us to see the studios they work at, such as the Disney Animation Studio and Bad Robot.
One of the trip highlights was when Bryan showed us a special screening of several scenes from the upcoming X-Men: Days of Future Past before taking us to his editing suite and showing us the original scenes without added special effects. But what really made the tours was hearing each person speak about what they do and share their personal journey. Students sit there and wonder how do I get there? And by listening to these accomplished industry professional's personal accounts, including their own personal struggles and doubts, it makes it real. And what the thread was, was that you had to be absolutely passionate about the truth of yourself and to preserve no matter how challenging and no matter how many times they thought it wouldn't happen, it was that passion that kept them moving forward.
This is for mainly SVA students but other people can apply. Also what it does is establish relationships, networking, and a sense of community that is so important. Several students have already contacted Randall Emmett to secure PA jobs and internships for the summer!
Read more about the journeys of SVA in LA by visiting this sva.edu blog!