SVA Horror Society on Fangoria Cover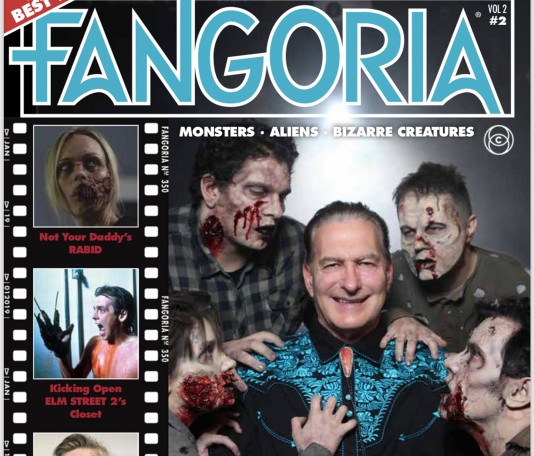 Matthew Yturralde recently crossed off two accomplishments from his bucket list; become a zombie, and be on the cover of Fangoria Magazine. Here, he writes about how he and fellow SVA Horror Society students, Haley Doyle and Santiago Saba Salem, came to have their zombified faces on the front cover of the magazine.
In February of 2018, it was announced that the defunct Fangoria Magazine, a publication that had been a staple among genre fans since 1979, had been purchased by Cinestate, a Dallas based production company. They brought Fangoria out of the ashes with plans to return it to all the glory it used to hold within the genre community. The plan was to create a quarterly print-based publication that would be subscription based. This would be a collectible magazine that you could read on a Saturday morning – keeping in theme with the contents buried within its pages – and not want to put it down until you've finished consuming all it had to offer.
I grew up in a time where I should have had Fangoria in my life but for some reason, I was completely oblivious that it was something truly meant for me. Embarrassingly, it took until this high profile resurrection was announced for me to realize that I'd missed out on something I didn't know I wanted until it was gone. Thank God it returned.
Volume 2 Issue 1 was released in October of 2018, and Forbidden Planet (Union Square) had a special release event with an array of industry guests present to sign the new issue; editor-in-chief Phil Nobile Jr., Mike Gingold, and Tony Timpone to name a few. I was so ecstatic about getting the first issue that SVAHS co-founder Santiago Saba Salem and I showed up 2 hours early and were first in line. We shared everything we were doing at SVA Horror Society and all of our ambitions and crazy plans for the club with Fangoria. We had just hosted our first Q&A with David Howard Thornton (Art the Clown in Terrifier) and attended a screening and Q&A at The Metrograph with special effects make-up artist Tom Savini and Sam Zimmerman of Shudder. This was a decision that would become a life-changing choice a few months later.
In December I was contacted by Fangoria and asked If I wanted to help with a photo shoot happening the next week. They remembered us horror society kids! Santiago Saba Salem, club member Haley Doyle, and I arrived that week unsure of what was to come other than we were going to be made up like zombies and Movie Critic Joe Bob Briggs (Monstervision, The Last Drive-in with Joe Bob Briggs) would be there – think Elvis but better. We soon found out we would be featured on the cover of Volume 2 Issue 2! A true bucket list moment for any horror fiend. Thank you to the Fangoria family for letting us be a part of horror history – we are eternally grateful.