SVA Horror Society screens Terrifier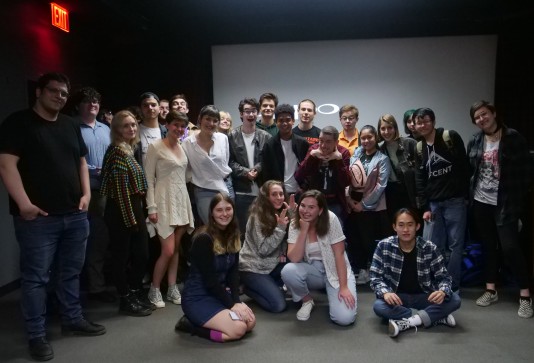 On October 11th, The SVA Horror Society screened the film TERRIFIER with special guest David Howard Thornton—Art The Clown—in attendance. Here, Matthew Yturralde writes about the screening and shares his pictures from the event.
This was the first Q&A event hosted by SVA Horror Society which was founded and is currently lead by three of our own Film Department Students— Santiago Saba Salem (Senior), and Matthew Koffler (Senior) and Myself (Junior).  In addition to hosting special guests we have also gone out to screenings. Last year we took a trip to the Metrograph Theater where they saw The Devil and Father Amorth and met the film's director William Friedkin. We returned this year to The Metrograph where we met horror icon and special effects guru Tom Savini.
We have many exciting things planned for the future of this club. We have a fantastic group of Alumni working within the Horror Genre as well. One of our Alumni, Ryan Turek, recently Produced Halloween (2018) and Ti West (BFA Film 2003) has directed films such as The House of the Devil and The Innkeepers. I want SVA Horror Society to stick around when I'm gone. It'd be nice if it became an institution at SVA. I'd love to hear in the future that the "next big thing" within the genre met at a SVA Horror Society meeting. We currently have 113 members signed up for the club which, if my memory serves me right, is about triple what we had last year. It seems like we are headed in the right direction.
SVA Horror Society meets every Thursday in room 502 at 7:15pm.