SVA in Cannes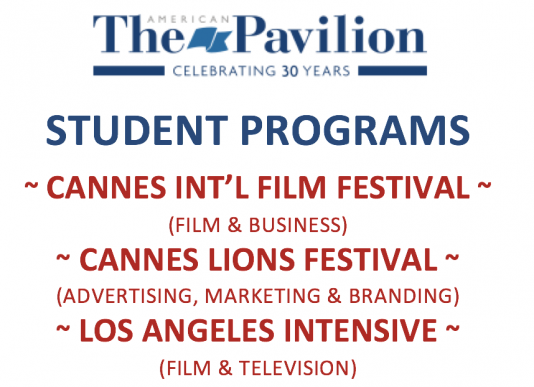 On September 17th between 11:00 AM – 12:00 PM SVA will be hosting an information session for the Cannes Student Program. The session will be held at 209 E. 23rd Street, Room 502. To RSVP and find out more info, click here.
Consider complementing your school curriculum with hands-on experience, direct access to industry professionals, and unparalleled networking opportunities at the world-renowned Cannes Film Festival next May, the Cannes Lions Festival of Creativity next June, or our L.A. Intensive next August.  
Since 1989, The American Pavilion has been the heart of Hollywood's presence at Cannes, and our worldwide Student Programs have helped thousands of students launch their careers in the film industry.  As the only student program officially recognized and sanctioned by the Cannes Festival and the Marché du Film, The American Pavilion Student Programs offer participants a unique and life-changing experience, and an up-close view of both the market and both festivals.
In addition to May's Cannes Film Festival programs, The American Pavilion offers two smaller "intensives," one in June and one in August.  The Cannes Lions Intensive in June is AmPav's newest Intensive, offering students of Marketing, Advertising, Branding Design, Media, and Interactive Technology intimate access to the creative communications industry's biggest annual awards show and festival.  Recent speakers included Yahoo's Marissa Mayer, U2's Bono, and Facebook's Cheryl Sandberg. And AmPav's L.A. Intensive in August, designed for anyone intending to begin a film or television career in  Hollywood, is a jam-packed week of private tours, workshops, roundtables, and more.
Come hear a representative of The American Pavilion discuss these programs and help you decide which might be right for you.
To RSVP and find out more info, click
here
.