SVA in LA Blog: Sal Petrosino & Students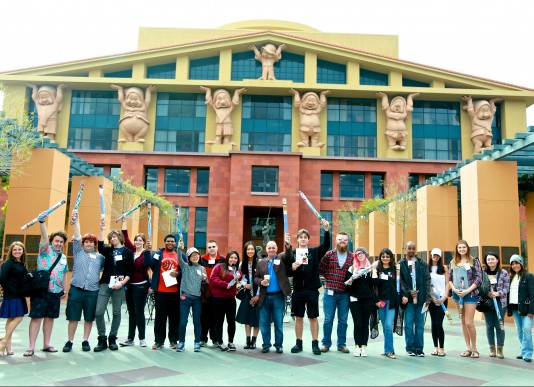 Sal Petrosino understands the importance of Los Angeles to the film and animation industries, which is why he takes a group of students out to LA every year to let them interact personally with leading SVA alum. The goal is to demystify the industry, and put a face on their futures.
The SVA in LA program was created to allow students to interact directly with top-shelf Film and Animation artists who work in both film and television. Students hear about each artist's personal journey firsthand. This both inspires the students and demystifies what can seem to be impossible career paths.
The program started with a private visit to Disney Animation Studios, where students met with the head of Talent Development, Dawn Rivera-Ernster who shared the best ways to start a career at Disney.
Students also went to Cartoon Network, where they met with SVA Alumni Ian Jones-Quartey, Supervising Director & Story-Board artist for Steven Universe. Jones Quartey shared the process and collaboration by which an episode gets done. Student Jon Bero said, "I was seriously surprised to learn that they utilize outlines instead of scripts when writing episodes; writing and pairing dialogue with storyboards later down the pipeline, rather than in the early stages of preproduction. I can't wait to tackle my next project that way!"
Moving on to DreamWorks, students met with SVA Alumnus, Jhun Yong-duk, director of photography for Kung Fu Panda, who shared his creative process in the visual structure of the film. Student Andrea Schmitz was quite happy with what she learned: "I liked seeing the studios because it made them seem more accessible, or in DreamWorks' case it narrowed down what they're looking for in applicants."
Mid-week, students attended a Film Panel that included directors, actors and producers, moderated by actress Caecilie Carlsen. Emmy Award Winning Editor and SVA Alumna, Katie Hetland, also attended and shared her journey from SVA student to free-lance editor in LA.
Students had the exceptional opportunity to meet Academy Award-winning sound recordist and another SVA Alumnus, Mark Ulano who screened various scenes from The Hateful Eight and Kill Bill. Ulano explained his approach to his craft. "Sound design is a secret passion of mine and a medium I've always wanted to learn more about," said Bero. "Mark was such a kind person and had a great way of articulating his thoughts on sound, speaking in relation to lenses and other visual forms that were easier to grasp coming from a visual arts background."
Film students received a special invitation to the Clubhouse of the American Society of Cinematographers where they met with celebrated DPs, who shared their years of experience in both film and television, and discussed their individual approaches.
Students also met producer and SVA Alumnus, Randall Emmett, who has produced over eighty-five films and is currently working with Martin Scorsese on his upcoming film, Silence. The program's last stop was a rare visit to Fox Studios where they met with SVA Alumnus Bryan Singer, director of The Usual Suspects and X-Men.
Rich Wollner was impressed with the warm welcome the students got. "People were very kind — and treat you as one of their own. I think for any SVA student, Los Angeles is the perfect place to be. (You might even get to meet a celebrity – I met three!)"
Jessica Catalan summed up her experience this way: "I have met all kinds of people and been given many opportunities for networking in the entertainment industry. It's inspired me to work harder, and make the most of my time in school. I can't wait to go back!"