'SVA Premieres' Returns to Hollywood TONIGHT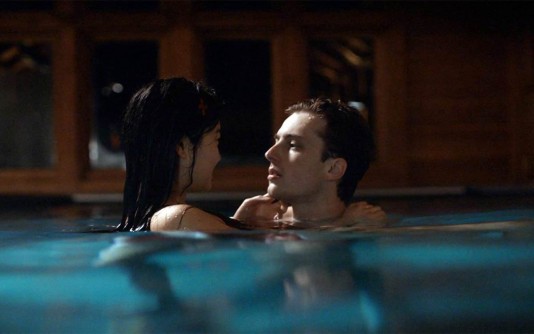 Tonight, 2018 SVA alums Théo Le Sourd (BFA Directing), Andres Padilla (BFA Animation), Sonja Von Marensdorff (BFA Animation) and Andrea Cordoba (MFA Social Documentary) give private screenings of their thesis films at the annual SVA Premieres in LA.
Check back later for photos and updates from the event.
SVA will return to Hollywood May 31 to present SVA Premieres, the College's annual film and animation showcase, at The Academy's Linwood Dunn Theater at the Pickford Center for Motion Picture Study in Los Angeles. SVA Premieres will feature a curated selection of works by talented, recently graduated filmmakers from SVA's film, animation and visual effects programs who represent a diverse and global range of viewpoints and artistry. The selected group of artists will be present to meet the event's audience of industry professionals.
BFA Directing graduate and 'Outstanding Film' winner Théo Le Sourd gives a private screening of his thesis film Hold Your Breath:
A young man must find the courage to prevent his best friend from sexually assaulting his Tinder date in a swimming pool.
BFA Animation graduate and 'Special Jury Award for Writing in Animation' winner Andres Padilla screens his film Slides:
A man has an argument with his girlfriend that spurs a journey through his past–with the help of a childhood toy–to fix his present and their future.
MFA Social Documentary graduate Andrea Cordoba screens excerpts from her film Sanctuary:
Amanda Morales walked into a church in NYC not knowing when she would step outside again. The Guatemalan mother of three U.S. born children is the first immigrant since President Trump took office to claim sanctuary, publicly resisting her deportation within a space that ICE recognizes as protected. Sanctuary gains rare and intimate access to Amanda and her family as they fight to remain together and adapt to life inside of the church. 
During the program, audience members will also be able to experience two distinct, exploratory VR games, both created by 2018 graduates, in the theater lobby.
To further SVA Premieres' mission of introducing the next wave of artists and filmmakers to the industry, during their time in Los Angeles the participating graduates will visit a variety of local studios and media/arts companies—including Disney, Titmouse, Amazon Studios, Starz and Deutsch—to connect with professionals and fellow SVA alumni who work at the forefront of the film and animation fields.
SVA alumni have been featured in film festivals across the globe, steering their own projects and making integral contributions to blockbuster releases. They have won Oscars, Emmys and Golden Globes and awards at festivals such as Sundance, SXSW and Venice. Filmmakers and artists as diverse as Craig Gillespie (I, Tonya),Carlos Saldanha (Ferdinand), Lynn Shelton (Outside In), Tom Sito (Aladdin), Crystal Moselle (The Wolfpack), Gillian Robespierre (Obvious Child), Morten Tyldum (The Imitation Game) and Ti West (The House of the Devil) have all studied at SVA (full program/list of films below).
SVA Premieres Program
1 by Brendan Jo, BFA Photography and Video
Bodega by Rebecca Halfon, MPS Directing
Crow by Sonja von Marensdor, BFA Animation
Cupboard (Excerpt) by Emily Cohen, MFA Photography, Video and Related Media
Emunah by DOMCAKE, BFA Computer Art, Computer Animation and Visual Effects
The Game of Silence by Jenny Mascia, BFA Design
Hold Your Breath by Theo Le Sourd, BFA Film
Idol-L by Jaehyeong Kim, MFA Computer Arts
Joe And Emma by Ran Huo, MFA Computer Arts
A Long Way From Home by Eduardo Enriquez & Andy Tai, BFA Computer Art, Computer Animation and Visual Effects
Meowpan by Ryoko Kondo, BFA Design
Negative Space (Excerpt) by Jenny Bee, MFA Visual Narrative
Sanctuary (Excerpt) by Andrea Cordoba, MFA Social Documentary Film
Signature Dish by Vanessa Zican Feng, MPS Fashion Photography
Slides by Andres Padilla, BFA Animation
Virtual Reality
High Light by Esther Gan, BFA Computer Art, Computer Animation and Visual Effects
Walter by Christopher Kenu Huang, BFA Computer Art, Computer Animation and Visual Effects