Writers of SVA: Helena Pak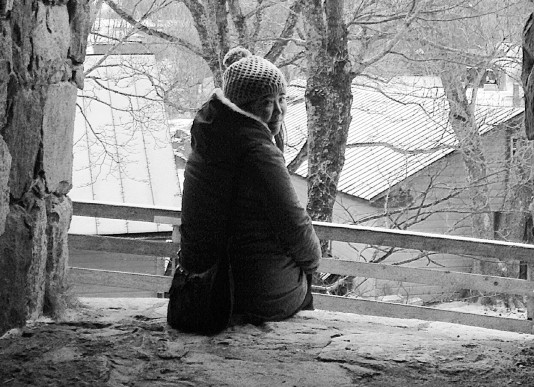 Building Bridges, Finland, '15. Thesis Screenwriter Helena Pak knows intimately the mental hand-to-hand combat of putting extraordinary emotion into a screenplay. Ruthless discipline wars with the desire for freedom and adventure. A first generation Korean-American, Helena had never left the United States before she embarked on Building Bridges. Adventure won out.
Gray, Windy, and Calm
By Helena Pak
Suomenlinna is a stone fortress built above the sea on several small islands in Helsinki, Finland, where I visited daily for ten days. It literally took my breath away. I remember sitting on the seat of an old, decommissioned naval gun. I remember the chill that crept through the seat of my pants, while the gray, cloudy sky seamlessly blended into the darker frigid sea in a beautiful union of gray, windy, and calm. I remember being absolutely at peace.
On another part of the island, the southern-most part, I remember the sun kissing the sky with pinks and purple, illuminating the white clouds hanging over the low horizon. I remember the wind was so strong you can lean into its embrace without fear of falling off the cliff and into the icy water beneath. I remember the delight of being in the unforgiving, chaotic essence of nature.
Before leaving, the chaos was in my mind.  A writer in the middle of thesis year, I felt constantly bombarded with ideas, characters, and clever phrases or bits of dialogue that always escaped before my pen could reach the paper. Meeting deadlines and expectations — my own fear of inadequacy was creating a raging storm of stress. Lately, the struggle to write seemed to suck me into a black hole, leaving me paralyzed and empty.
That was my state of mind as I dragged my feet through the airport for an eight-hour flight to Finland. Honestly, despite the anticipation of reuniting with some of the most talented people I've ever met, I was counting the days before I could return home.
But being there, in Helsinki and Suomenlinna, was like a balm for my worn out mind. I relearned so many things I had forgotten I loved. I relearned to embrace the chatter of my mind and all that comes with being a writer. I relearned to love creating, as an artist and as a person. I relearned that I am not alone.
I relearned not to fear failure.
So far up north and halfway around the world, Suomenlinna is a place I probably would not have visited if not for Building Bridges. Sitting at my desk in my room, stressed out to the max and struggling like I've never before, I remember the strong winds buffeting my body and I accept the energy of my own chaos. I remember the grey clouds and the grey sea and the emptiness in my head turns into peace.