Writers of SVA: Emily & PJ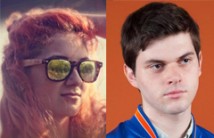 This week we're going to feature two writers. Yin and Yang, Night and Day…..Tears and Laughter.
Emily Short's prose can feel like an expedition to the South Pole of the Soul. She knows dark places and she has her reasons. …..(Don't worry — her current screenplay is heading back towards the equator.)
I'm writing this because if you ask me, I'll tell you I'm fine. And you know me well enough to see through that.
I love you with all my heart, and I don't want to lose you, but sometimes I feel your life would be easier without me in it. You wouldn't have to stress yourself with finding time to see me or go to my family functions that feel like they are every weekend. You would have time to hang with your friends and not worry about how I feel being there. You just wouldn't have to worry about me. You have a choice – my family doesn't.
Most days I feel like nothing. I wake up and cry, because I wish I hadn't woken up. Death is a constant thought in my mind. Not that I want to die, I just don't want to be here.
There is one place that I find the peace I am constantly searching for, and that's with you. When we are alone in your room, away from the world. When you just hold me. I feel like I can breathe again. It's the only time this war ceases.
I will never tell you what's wrong, and you won't ever push me. And that's smart of you, because I am full of darkness. I may look fine but I'm a damn good liar.
PJ Evans can keep a straight face — and it's not easy when you can see the funny side of life as clearly as he does. Today, he imagines churning out headlines for the Onion.
Weird dog uses bathroom stall to pee instead of urinal
Daughter thinks one of her dads might be gay
Man looks for parade after finishing off chapstick
Mother of two finds perfect level of brightness on her computer
Man clears schedule waiting for polaroid to come through
Movie theatre ticket ripper's house is just a mess
Only four attending Kate's birthday according to Facebook
Father of four claims he has three children
Woman can't find her blockbuster card to throw away.
You can read more from these very two different writers by visiting their blogs below!