Alumni Blog: Will Henry
SVA Alumnus Will Henry (2014) writes about producing his new documentary film, The High Frontier: The Untold Story of Gerard K. O'Neill. The film tells the untold story of Dr. Gerard K. O'Neill who in 1977 wrote the book, The High Frontier: Human Colonies in Space, which sparked a grassroots movement to build Earth-like habitats in space in order to solve Earth's greatest crises. The film is told through "Gerry's Kids" as they affectionately call themselves; his peers, family, and the younger generation who followed that movement and are now leading the modern day space industry.
The High Frontier: The Untold Story of Gerard K. O'Neill will have its free live global premiere on April 17th, 2021 at 8pm ET / 5pm PT on SpaceChannel.com. The film will be released for online VOD the following day, April 18th, 2021 on Amazon, iTunes, Google Play, Vudu, Microsoft Stream, and Fandango.
In March of 2018 I came across a Production Assistant job on a documentary film. Typically I would have overlooked the listing, PA jobs don't always pay so well, but I saw something that intrigued me. The documentary was about a physics professor at Princeton University named Dr. Gerard K. O'Neill, and although I didn't recognize the name, I grew up just blocks from Princeton University and was raised by a scientist; albeit a chemist. I wrote a quick note to the producer and to my surprise, I heard back the next day and was hired within the week.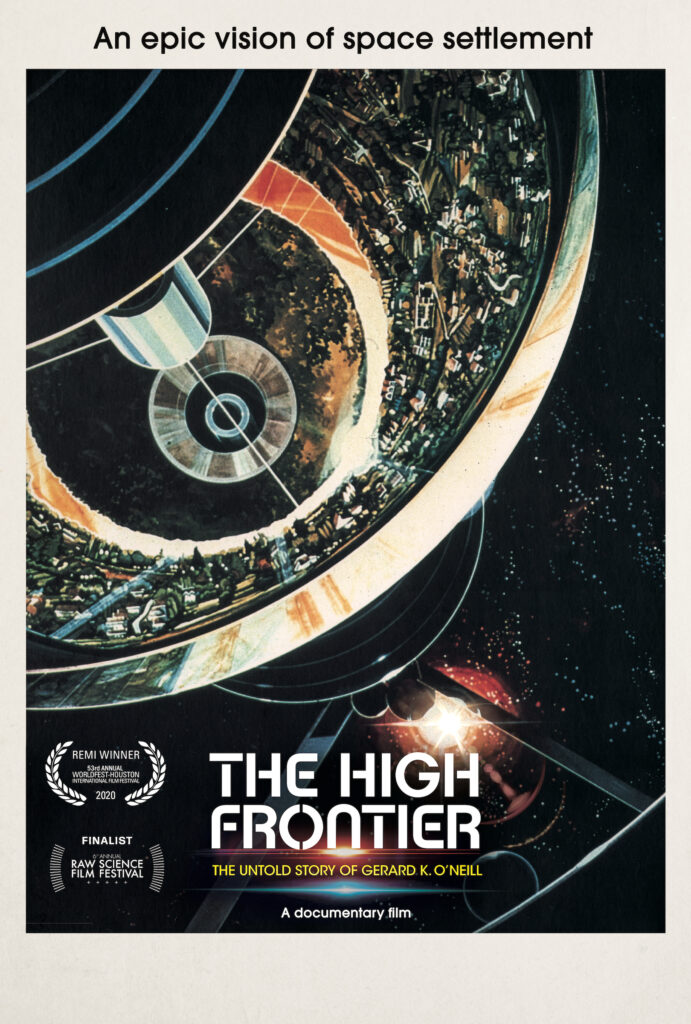 The project wasn't small but the team was. For quite a while it was just the first-time Producer, Dylan Taylor, and myself. Dylan had previously created a large following by way of a very successful career in another industry, but had since turned his sights on the space industry. Dylan is now Chairman & CEO of Voyager Space Holdings, a multi-national space holding firm that acquires and integrates leading space exploration enterprises globally. I learned that this film was somewhat of a passion project for him, but unlike most passion projects in the film industry, he actually had the financial assets to make the thing happen. I quickly realized I had stumbled into an incredible project, not just from the enormous generosity I found Dylan shared as a filmmaker (he promoted me to full Producer and Writer within the first year,) but the story of that physicist at Princeton.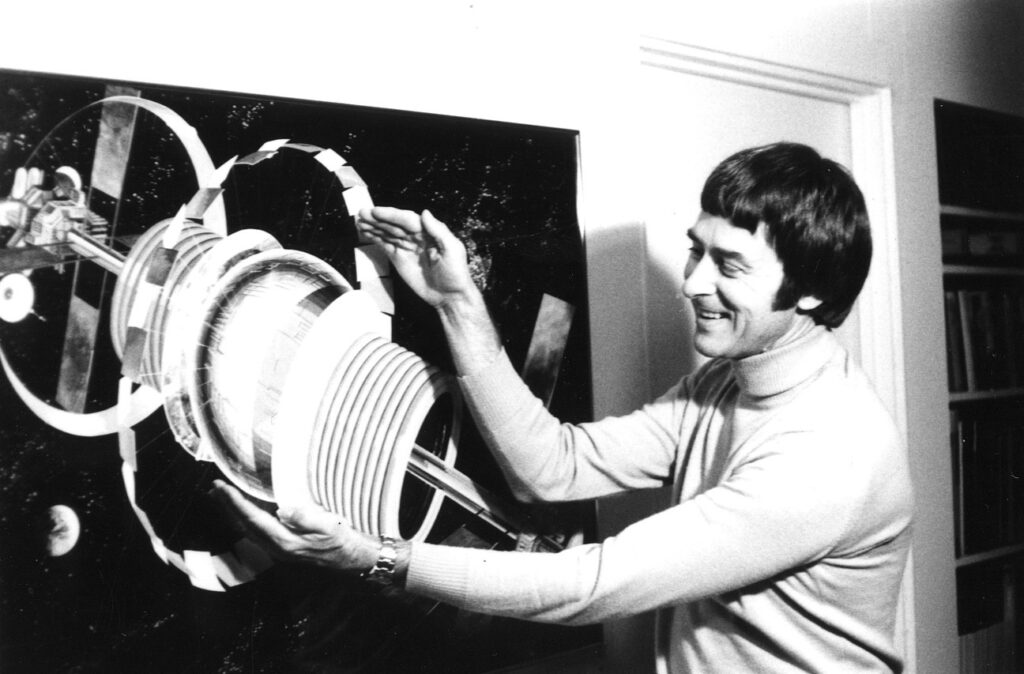 So who was Dr. Gerard K. O'Neill? Known to most as "Gerry", O'Neill was an American physicist, inventor, and space activist best known for writing the 1977 book, The High Frontier: Human Colonies in Space. The book details how humans could build rotating space habitats in low-Earth orbit using a design he called the "O'Neill Cylinder." The habitat could recreate Earth's gravity and would house millions of people for work and play, eventually solving the major concerns facing Earth such as hunger, overpopulation, dwindling resources, and war. His book and activism launched the movement to the global stage, forever inspiring a generation of free thinkers, space leaders, and altering the course of American space industry forever. Dr. O'Neill passed in 1992 from Leukemia, but his vision still lives on thanks to the "Gerry's Kids," those who were inspired by Dr. O'Neill and keep his vision alive today.
I began searching through online libraries, studio records, radio stations, and previously confidential museum and university archives. Dr. O'Neill's remaining family and friends even made dives into their attics for me. O'Neill was on just about every major talk show, radio station, and print publication of the time, garnering an enormous following around the world. I discovered enough information to write several books, TV series, documentaries, compile numerous photo albums, and an endless audio library. It astounded me once I saw the whole story take shape that Gerry could be so unknown today. Many of his followers consider him the Steve Jobs of his time.
Gerry is best known for what happened to the course of his life, and humanity, after he asked a simple question to his freshman physics class at Princeton University in 1969. He asked, "Is the surface of a planet the right place for an expanding technological civilization?" Their research proved the answer to be "No," and further study showed that the best place for an expanding technological civilization was in rotating space habitats in low-Earth orbit at stable gravitational points known as "lagrangian points." If achieved, these habitats could house hundreds of thousands of people to work and play in, and would be enormously beneficial to humankind, alleviating the strains of the aforementioned crises of overpopulation, hunger, dwindling resources, and war.
This realization and his further study led to O'Neill writing The High Frontier: Human Colonies in Space. From the book's release to his passing in 1992, O'Neill was the leader of a grassroots movement to open the high frontier, to make space available and beneficial for all mankind. O'Neill managed to build a following that reached the entire globe. He was prolific in his ability to convince the American government that his ideas were worth the endeavor, and managed to create several new inventions along the way including the "mass driver," an electromagnetic catapult needed for manufacturing of the Moon, and technology known as "Geostar" which was the precursor to GPS.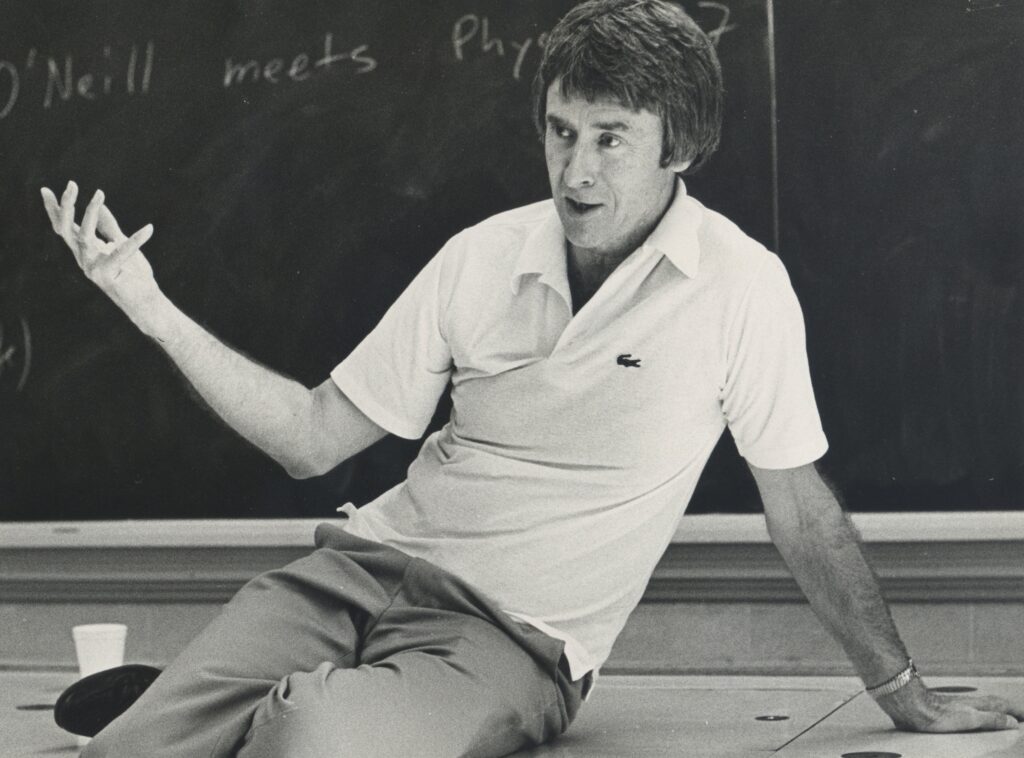 The making of the film was a profound experience for me, allowing me to work directly with top of the line animators, editors, producers, even entertainment lawyers we enlisted to help us license the 250+ clips of O'Neill we found along the way. It was the next best step for my career in the industry, which having not a single connection in is a daily struggle to keep afloat in. I also had the wonderful experience of being thrown into the space community from the inside thanks to Dylan Taylor, and was amazed at just how effective the community is in achieving humanistic goals for Earth's population. It gives me hope to have had this experience.
Through our combined efforts, along with the incredible team we partnered with at Subtractive Inc. in Santa Monica, CA, our three-year journey of sifting for gold turned into the incredible documentary, "The High Frontier: The Untold Story of Gerard K. O'Neill."
O'Neill's habitats clearly weren't built in the timeframe he envisioned, but he did manage to inspire an enormous amount of advocates who call themselves "Gerry's Kids". I'm proud to add my name to that list. This documentary will remind the world of who Gerry was and why his story is more important today than ever, those four major global concerns growing worse. We may be taking up the challenge a little behind Gerry's schedule, but because of his life and those he inspired, I believe that the future of our Earth is a hopeful one.
Twitter / Instagram / Facebook / IMDb