Bennett Elliott Produces Bisbee '17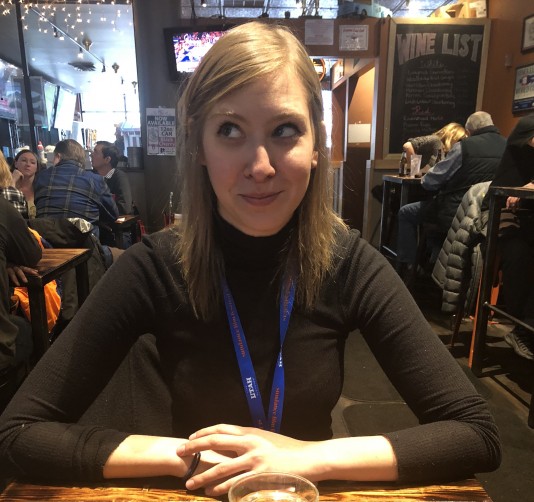 Two years ago, Emmy winner Bennett Elliott (BFA Film 2010) produced Robert Greene's hybrid documentary Kate Plays Christine. Now she's getting ready for the release of their new film, Bisbee '17. The film opens at Film Forum on Sept 5 for a two week run, as well as in 35 cities. SVA is also sponsoring a special screening as part of its After School Special program Sunday, September 9th with Bennett participating in a Q&A after the screening.
How did you get involved with this project?

I've been working with director Robert Greene since my first internship out of college, at a documentary company called 4th Row Films. At 4th Row, I had a part-time internship that eventually lead to becoming a full-time employee and assistant to the producers Douglas Tirola and Susan Bedusa. At the time, Robert was the Postproduction Supervisor at the company and had recently directed his second feature film, KATI WITH AN I. The team was having trouble clearing the rights to a song that was prominently featured in a key scene. I ended up getting the song cleared and winning the trust of the team in the process.
Robert and I had previously collaborated on his last film, KATE PLAYS CHRISTINE, which won a Screenwriting Award at the Sundance Film Festival in 2016 – and our whole team was really looking forward to taking a break before hopping on the next project! Robert had wanted to make a film about the town of Bisbee and it's history for the past fifteen years, and when we discovered that the 100 year anniversary of this huge town event was coming up, we knew we had to go right into production.
We took several short trips down to Bisbee, AZ, to scout, camera test, and scout and used the footage we captured to raise money for the next short trip. As a Sundance Producing Fellow, the Sundance Institute helped set up fundraising meetings with investors and partners at the 2017 Festival. Later on in the spring, I decided to quit my full-time job as Head of Production at Mustache Agency, a Brooklyn-based commercial production company, so I could work on the documentary full time.
What were your days like?

I think any producer will tell you that no two days are alike, but Bisbee '17 was like nothing I've ever worked on before. Bisbee, AZ is a city in the Mule Mountains of Southern Arizona, just a few towns away from the border of Mexico. It's normal for the temperature in the summertime to reach the triple digits, and with the mid-summer months come intense monsoon rains that happen every single afternoon. Production resources are scarce – with the nearest rental house in Tucson, about 3 hours away, it was critical to make sure batteries were always charged!! – so our days required really intense planning to maximize our shooting time.
Unlike a typical documentary, we were also casting folks to act both as subjects and as historical characters, which meant we were trying to meet locals with compelling stories as well as learn lines, and in some cases, songs! Bisbee '17 features several musical scenes that use early labor movement songs to summon the ghosts of the past. It was also my first time spending an extended period of time in such of small town. The population of Bisbee, AZ is around 5,000 people – and a community that tight-knit can sometimes be (deservedly) wary of out-of-towners with cameras. We rented a production office from Central School Project, a non-profit arts center that provides studio space to working offices and serves as a pillar of cultural in the community. Our production designer and art director had a magical studio upstairs, and would often swing by the office to check in and show us the latest prop flags or posters they had designed. Working in a space surrounded by so many other artists was surprising and allowed us to feel less like outsiders.
As a producer, you're responsible for so much more then just the budget and the schedule. To maximize our resources, I wound up sourcing and styling all the early 1900s costumes – so I'd spend a couple of hours in our production office, and then I'd go digging at thrift stores for hats and suspenders. Luckily, we had a handful of historical photos on hand for reference when dressing our hundreds of extras. I was also often responsible for maintaining the close relationships with our characters, both on and off set. It might sound fun to immediately add a ton of new friends to your circle, but when you're the producer and trying to schedule said friends to show up at for an early call time, it can get a little tricky!
How did your job as a producer change during preproduction, production, and postproduction?
The preproduction phase of this film was crucial, because we were bringing so many different elements of both documentary and narrative storytelling together.
Once our team moved down to Bisbee and we officially moved into Production from May – July 2018.
Joining Robert and I, our crew included the extremely talented cinematographer Jarred Alterman, as well as five of Robert's recently graduated students (he teaches as the Jonathan B. Murray Center at the University of Missouri) filling the positions of production coordinator, assistant editor, assistant camera, audio, and key PA. It required the more experienced members of our crew – our director, DP, and I – to add a level of mentorship to the day to day on set. It was important for us to create an environment on set that was both educational but professional. These graduates did an incredible job balancing supporting the team and learning how to work on their first feature length film – most of them have since moved to NYC and are now working in production!
We faced no shortage of challenges during our shoot, whether it came to organizing full-scale recreations of historical scenes, building a period-specific set of train cars, or teaching non-professionals how to pull off a one-shot musical scene in a bar right before it opened for the day.
I love being a producer, because in the face of so many challenges you learn that nothing is really impossible, and when you have a strong team you can pull off anything.
The postproduction process was exciting for me – it was such a joy to see the footage of what we actually pulled off just several months later. We finished filming in July and had to be cutting the film as we shot, in order to make our fall festival deadlines. Bisbee '17 premiered at the Sundance Film Festival this past January, surrounded by our cast and crew, and the experience was magical.
What advice would you have liked to know about producing feature documentaries when you were a student as SVA?
When I was a student at SVA, I had never considered the possibility of producing feature documentaries. Admittedly, I'm a bit of a control freak, and I don't think I would have ever anticipated fully embracing the chaos that comes with working on docs. However, this is now something I find really exciting – figuring out how to schedule and script out a day but leaving a wide margin for magic to happen. It's a really delicate balance between what you're able to pre-plan, what you're able to anticipate, and what you need to trust that the director and the DP will capture.
However, I feel like my experience as a film student at SVA gave me the foundation to understand how different departments – sound, art dept, postproduction – work together which makes it easier to understand the bigger picture from a crew perspective.
And what was your journey from film student to documentary producer?
I graduated from SVA in June of 2010, and my first experience working at a production company came from my internship at 4th Row Films. After making the jump from intern to assistant producers, my days consisted of observing and assisting Doug Tirola and Susan Bedusa, on everything from films currently in production, financing deals, development projects, and casting. I can honestly say that Doug and Sue taught me everything about being a producer, from the ground up. Their tireless work on behalf of their filmmakers, as well as their easygoing and generous approach to solving seemingly impossible problems was incredibly inspiring and is an attitude I try to emulate in my approach to all the projects that come my way. From that first production experience, I had opportunities working in TV (even winning my first Emmy with Rob Kolodny, co-founder of House of Nod), web content, and commercials before circling back to documentary and being reunited with the same producing team I first worked with right out of college.
When you have the chance to work with your role models at your very first job, if you pay attention to what they're doing, there's a good chance a little of their producing superpowers may rub off on you.