Student Blog: Annie Fleisch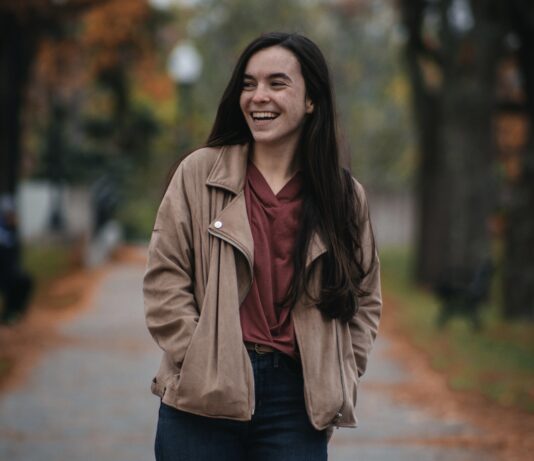 3rd year film student Annie Fleisch discusses the challenges she faced when making her second-year film during the pandemic.
12/7/2021 Update: Annie's film is an official selection at the 2021 Monmouth Film Festival.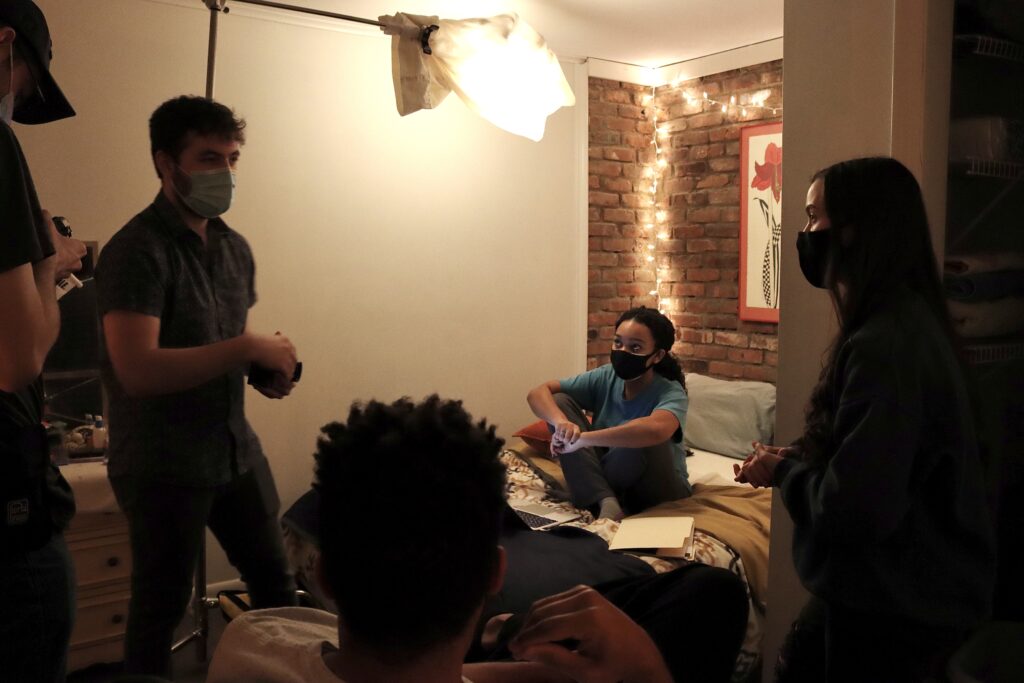 Student filmmakers have faced a difficult challenge during this pandemic. Throughout the summer of 2020, I was back at home just like most students were. So, I started to write a script in an attempt to keep my creativity flowing. When SVA's online Fall 2020 semester began, I continued to workshop the script in my classes. About a month into the semester, I realized that I wanted to shoot this script and make it my second-year film.
This project was a bit ambitious; the script was long and it required multiple locations. I realized that COVID restrictions, protocols, and general safety were going to be a big challenge on set, too. But, with a lot of time, hard work, and determination, I finally started principal photography in March of 2021.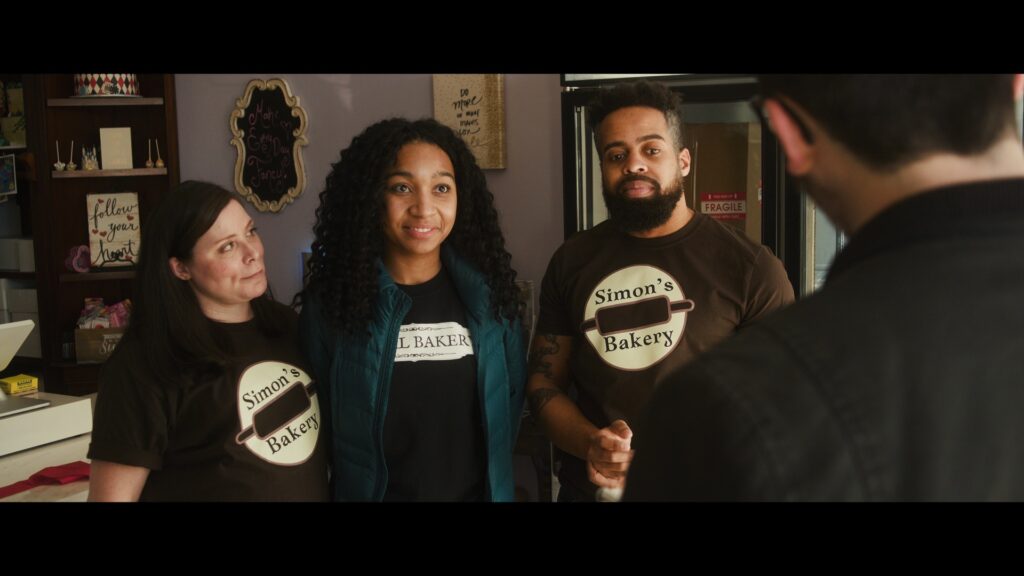 If I had made this film in pre-pandemic times, it still would have been a big challenge. I wrote, directed, and produced this project myself, so there was already a lot of weight on my shoulders! In addition to that, we needed to find a bakery, a naval recruiting office, and utilize our ultra-low budget to its max. Although we were able to overcome these obstacles, the pandemic made the regular challenges even more difficult. It also brought new ones up to bat, too: my casting director and I had to conduct our auditions online, I had to develop on-set protocols to ensure everyone's safety with my AD, and I had to create COVID release forms for everyone to sign.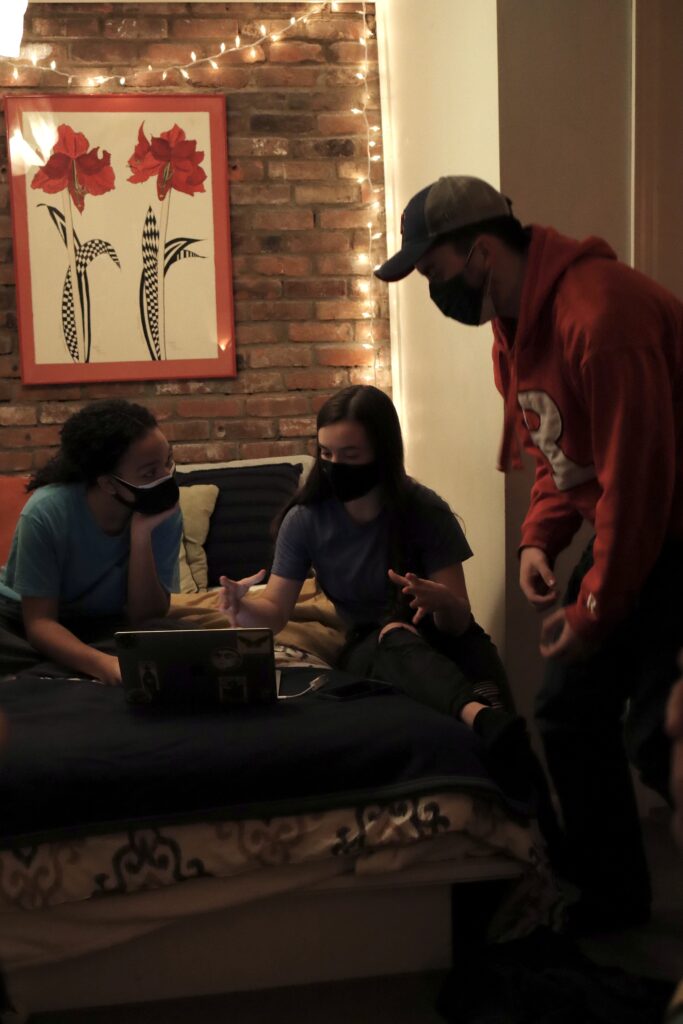 We had to get creative when it came to meals. As I mentioned earlier, this film had an ultra-low budget, but I was fortunate enough to have my parents help me out with this part. They cooked large amounts of chicken, pasta, and vegetables, and packaged them into individual containers. This was the best way to serve food because, if we did a traditional buffet-style, there's a chance cross-contamination could occur. My parents, Michael and Doreen, also drove from our home to the filming location each day to deliver the food (a total of 3 days).
Our crafty table also had snacks that were individually packaged; we couldn't have any shared or open containers. Another obstacle we faced was equipment. Since I was home and not in Manhattan, I wasn't able to access any of SVA's studios or equipment. Luckily, my DP had his own camera, and some of my crew had personal lights, flags, c-stands, and other equipment that we were able to use. I also rented additional items through friends who lived in the area.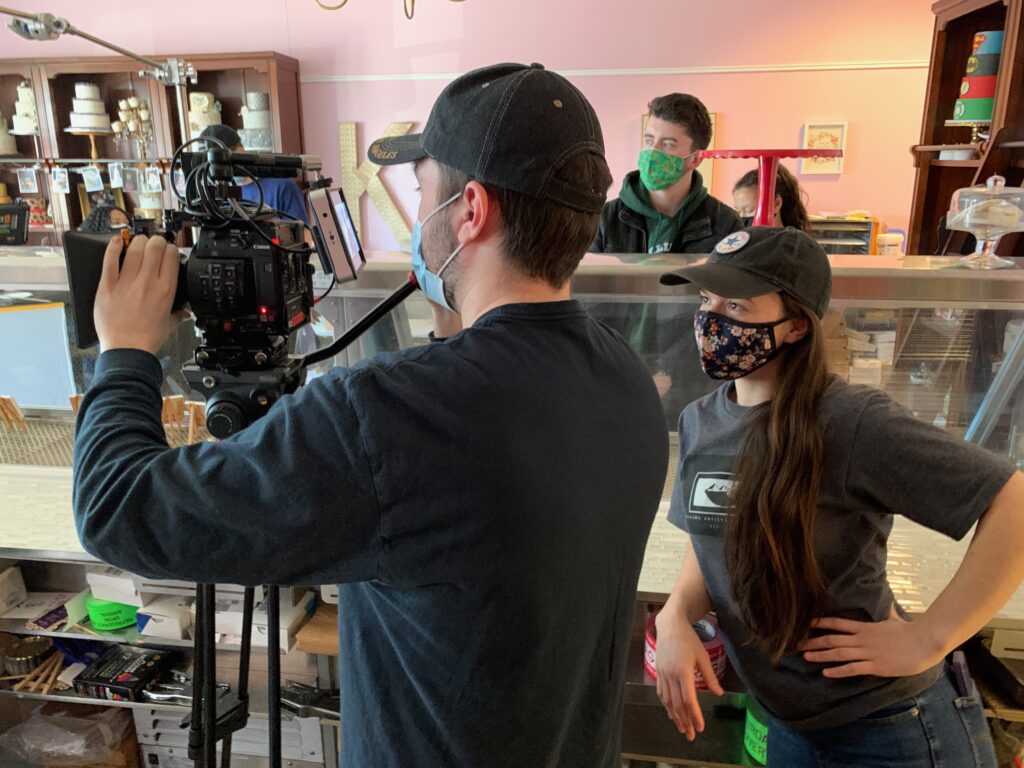 We shot the first week of March, and at this time the COVID vaccines just started to roll out. So, most of my cast and crew members were not vaccinated. To ensure everyone's safety on set, we required that everyone had to get a COVID-19 PCR test the week before our shoot, and show a copy of their negative test results. We also mandated that all cast and crew had to wear masks!
We made sure that everyone on set was wearing a mask at all times, the only exception would be when the actors were acting or doing a rehearsal. We also checked everyone's temperature each morning and had extra masks, wipes, and sanitizer on set. This was certainly an additional cost to our already minimal budget, but it was worth the money to keep everyone safe.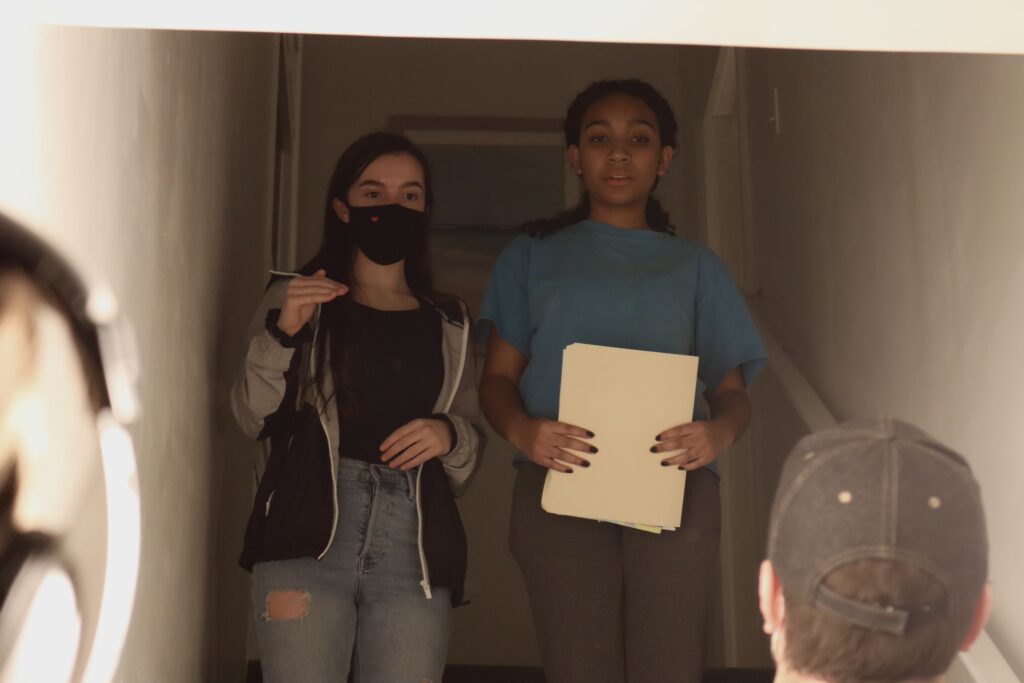 Looking back at this experience, I'm grateful to have had such a reliable and determined crew. We only needed one pick-up day, which we did a few weeks after principal photography, and then the footage was sent off to the editing lab. My editor, Joseph Rana (another 2nd-year film student at the time) spent many days editing the film to perfection. Finally, we finished the edit in mid-June. At a total of 18:49 minutes long, my film "Just Like You" was complete!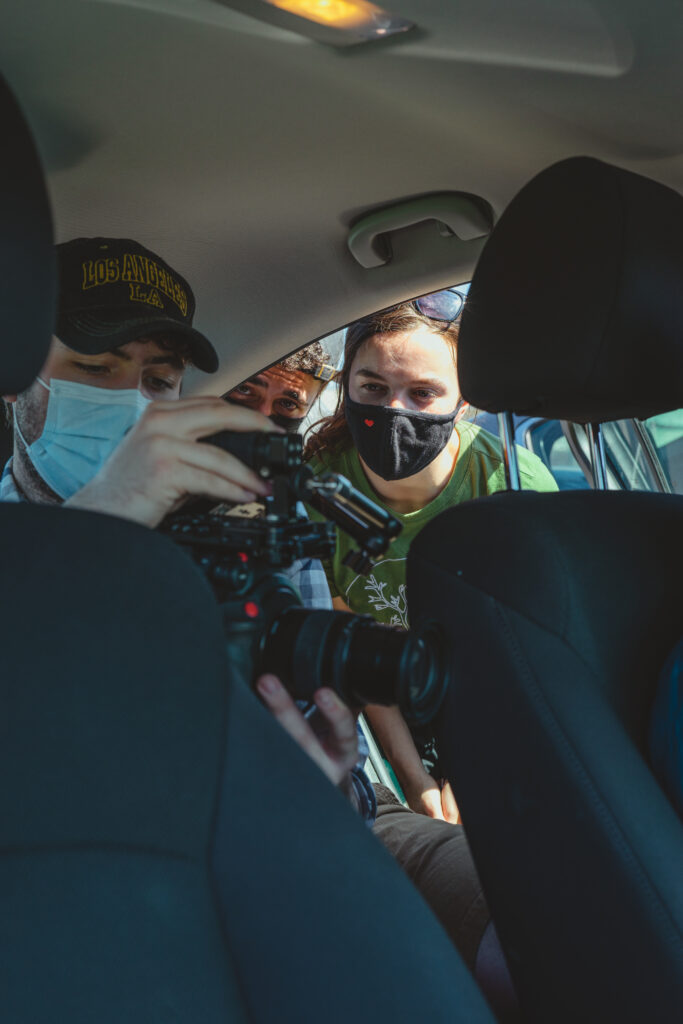 While I'm still waiting to hear back from other festivals, "Just Like You" was recently an official selection at the Monmouth Film Festival, and at the Flow Film Festival & Market, where it won the Best Family Film award!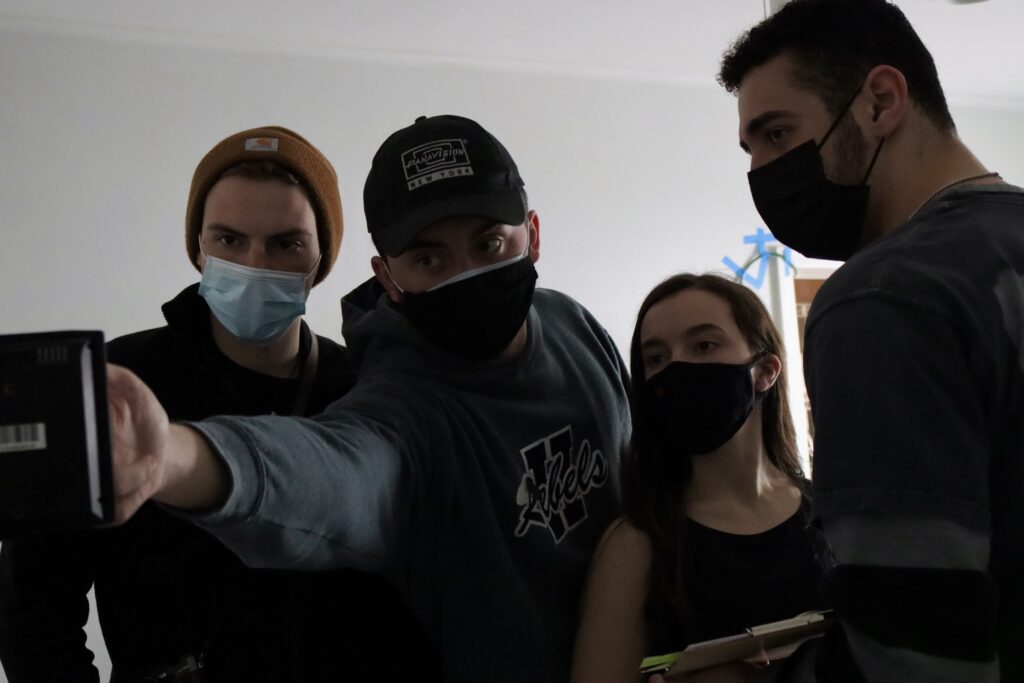 I'll leave you with a fun fact: There's a scene in the second half of the film where April watches old footage of Navy sailors on her laptop. Well, this was genuine 8mm footage from my Grandfather's camera during his time in the Navy (circa 1960).
During the peak of the pandemic, my family and I finally started watching my Grandfather's old film reels. They have been sitting in our basement for years. I bought a device that digitized the film so we could watch it, and so I could include it in my film. Also, the sailor that's on the screen of April's laptop is actually my grandfather, Monroe (Mike) Fleisch!