THE SECOND ANNUAL RUSSELL SPROUTS CELEBRATION OF LIFE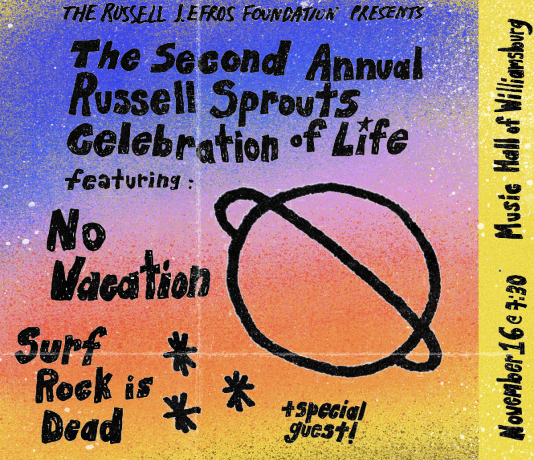 The Russell J. Efros Foundation is hosting the Second Annual Russell Sprouts Celebration of Life event on Saturday night, November 16th, 7:30 PM at the Music Hall of Williamsburg in Brooklyn, NY.
The Efros Family created The Russell J. Efros Foundation, a 501(c)(3) non-profit corporation, in memory of Russell Efros (a BFA 2014 Film and Video alumnus).  The mission of the foundation is to support and nourish the emerging arts community by connecting, assisting, educating, incubating and funding emerging artists. 
In the foundation's first year, they raised funds to create the Russell J. Efros Memorial Award Fund at the School of Visual Arts. The spirit of the award is to assist a student who exhibits excellence and promise as an emerging artist and filmmaker. This $1,000 award is designated annually to recognize a fourth-year undergraduate film student's thesis project. The award process is overseen by the BFA Film department. 
The foundation will present the award to the first award recipient, Sage Love for his film Ayiti: The Awakening, at the Annual Event.  With the immense support the foundation has received, they have been able to give back to the community by supporting local artists with various projects and hosting the Battle of the Bands took place on October 3rd at The Market Hotel. 
The Second Annual Russell Sprouts Celebration of Life event will feature performances from No Vacation, Surf Rock is Dead, Scruffy Pearls, Drew Cooper & Wass and Robbins Lane Band and Battle of the Bands winners Cenny Ray and Wild Sleep.
This year, the foundation's goal is to raise funds to create a community space.  A safe space for artists to network, create, collaborate, learn, gain access to wellness (including mental health), legal and marketing resources and share their talents (including a performance venue and gallery space) – a project that would greatly support the community's needs and something that the Efros Family was working on building with Russell just before he passed. Establishing this will not only help driven and talented artists gain access to the resources they need, but will help to keep Russell's dreams and his legacy alive.

In order to achieve this, we need to raise funds for rent, operational costs and funds to support and incubate local artists in the community.  Our goals and success cannot be achieved without your support.  With your help, we will soon be searching for a space to rent for the foundation in Brooklyn.  The place that Russell loved and called home.

To purchase tickets to the event, make a donation or donate artwork for the raffle or silent auction please visit www.therusselljefrosfoundation.com.  
The Russell J. Efros Foundation, Inc. is a 501(c)(3) non-profit corporation.  100% of the proceeds are donated to The Russell J. Efros Foundation.