Top Ten Reasons to Choose SVA
TOP
TEN

FIFTEEN REASONS TO GO TO FILM SCHOOL AT SVA * NYC.
We couldn't stop.
#1
You are making films the minute you get here – not just studying them.
Yeah, you can get your hands on that one. Credit: Justin Ho.
#2
You'll have access to the most – and most professional – equipment.
Always learning a new camera. Credit: Justin Ho.
#3
Your teachers will all be professionals working in their fields.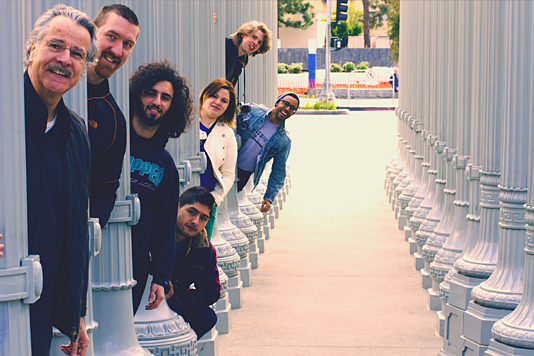 Going to The American Society of Cinematographers Open House in LA with Dejan Georgevich, ASC. Credit: Justin Ho.
#4
You could meet some of our amazing alums.
Morten Tildum, The Imitation Game director, talks with students on SVA in LA.
#5
Incredibly talented people will promote your film.
Filmmaker Henrik Hanson collaborates with artists from all over SVA to promote SVA film's winning Sprite Contest film. Credit: Henrik Hanson.
#6
At least one of your friends will be a great soundperson. We have the only undergraduate Sound program, with a triple Oscar-winning sound recordist. Credits: Justin Ho.
#7
Your friends will still be there for you after graduation.  Java Jacobs and Tighe Kellner, '13, started a production company that just made a commercial for the French Sports channel.
#8
We have gazillions of awesome internships that can turn into jobs. Brittany Brothers worked for Anthony Bourdain as an intern and now produces Apex Predator.
#9
Our Documentary Film Program is outstanding.  Jackie Lobel made a doc for her thesis and now, 5 years later, won an Emmy for her short doc on depression.
#10
You might even win an Emmy while you're still here. Sean Horan just won an Emmy in his third year for cinematography on an Internet news show. There's a lot going on in NYC.
#11
You could meet lots of interesting people on the other end of your camera. Cinematographer Brian Gonzalez working with Keira Knightly. P.S. Brian had a short that ended up playing on the Jumbotron in Times Square.
#12
You might fall in love…..with New York! The most amazing city in the world to make movies in. We can't guarantee you'll find your soul mate, but we can promise you unforgettable vistas. Credit: Justin Ho.
#13
Then there are all the opportunities during Fashion Week. Iris Apfel, the subject of Albert Maysles documentary, with Whoopi Goldberg. Credit: Jackii Sovern.
#14
You could take advantage of one of our extraordinary international programs. Building Bridges is an exploration of t collaboration – with the top film schools in Europe. Credit: Henrik Hanson.
#15
When you're ready to graduate, you'll be part of our own amazing film festival – The Dustys.
We want to thank our intrepid director/shooter/editor, Justin Ho. Pictured here at Emerging Cinematographers Day. Credit: Liz Kraus