A Conversation with SVA Professor Amy Taubin (Part 1 of 2)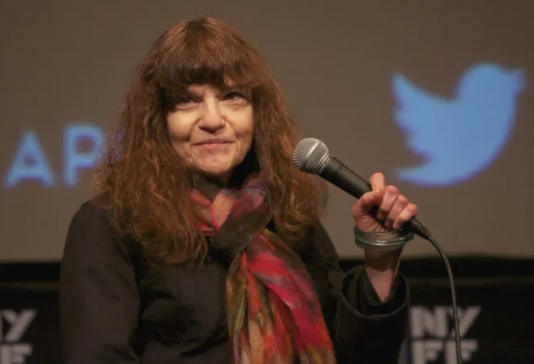 Update: Faculty member Amy Taubin is curating MoMA's "Carte Blanche" series. Amy has chosen films that relate to NYC, although not necessarily shot here, a mix of experimental, Independent, and Hollywood studio films. There are ten programs – seven of them at the end of April , beginning on April 27th, and three more at the beginning of May and then the entire series of ten programs repeats until the end of May. Check out the calendar by clicking here.
SVA professor and veteran film critic Amy Taubin has been a vital part of New York City's arts scene for decades. In the oft-romanticized days of '60s downtown bohemia, Taubin was there, soaking up the creativity of luminaries like Jonas Mekas and Andy Warhol firsthand. She appears as a talking head in Todd Haynes's documentary The Velvet Underground, and in collaboration with Haynes, she has released a short film honoring Mekas's East Village arthouse theater Anthology Film Archives and its crucial role in New York's experimental film scene—a role that continues to this day, even as many of its contemporary arts institutions are sadly long gone. Watching Taubin's short truly reminds us just how vital grassroots arts institutions are in keeping the city cool and creative. In the first part of a two-part conversation, film critic Abbey Bender speaks to Taubin about her fascinating firsthand experiences of the '60s counterculture, her history at SVA, and the ever-changing world of film criticism.
When you were experiencing the '60s arts scene in New York firsthand, did you have an awareness that you were living through a big cultural moment at the time? What was it like?
I don't know that living through it one thought that it would have an effect that is as powerful as it is. It wasn't only an art and culture movement, it was a political movement, too. The art and culture were connected to a political moment of the New Left and the second wave of feminism which came out of the very strong civil rights movement of the period. So, the cultural moment wasn't separate from that, but did we think that this was an enormous change from the '50s? Yes, of course we did. In art, people were continuing to think of what moves they could make in relation to the huge moves that were made post World War II in terms of American abstraction and abstract expressionism. It's hard to box off the '60s in one way, as it is always boxed off now.
It seems like so many different art forms were merging in interesting ways then—like visual arts, writing, music, experimental film, and narrative film, were all connected and allowed for more creativity. How do you show that interconnectedness of the arts to your students and what interests you about it?
There was a notion then that film studies was this enormous sieve, that you could run through concerns not only about other art disciplines, but also anything in the world that you were passionate about. That's no longer true in the field, but that certainly was the mark of this expanding film studies that happened in the '60s and that's still the way I teach it.
How long have you been teaching at SVA?
Oh my God… I don't really remember when I taught my first course, but I have a feeling it was in 1978, and that was a course that I took over from someone else, and then I just continued. I have almost never taught in the film department per se. I started in humanities teaching a course in film and literature and then I basically began teaching in Art History, as it was then called, and now it's Visual Studies and Art History, teaching film courses within that discipline so that film majors could take them as electives. But there was also a period where I was on the thesis committee, and I worked directly with film students that way.
What was your career path like before that?
Someone asked me to take over a course at Pratt, and the experimental Cinema of Transgression filmmaker Nick Zedd was in that course, and I managed to help get him graduated from Pratt, because he made a film that was so violent and so brilliant that they didn't want to accept it as his thesis. I convinced them to accept it, so that was a moment where I got involved in teaching.
I began my career as an actor. I was a relatively successful actor on Broadway and off-Broadway, and I was married and lived in New York. I had a husband who did not want me to go to California where I would have had a different kind of career. At the same time, I was extremely involved with avant-garde film, and those two worlds could not have been more different. At the beginning of the '70s I made a choice and I stopped acting for various reasons and got extremely political. I was on the defense committee for the Black Panther Party. I was involved in the civil rights movement, and I was kind of at a loss for how to make a living.
I started a program at the New York State Council of the Arts that became a model for a program at the National Endowment for the Arts on performance and conceptual arts, and I was there for two years. While I was there, I started occasionally teaching and was making films, and I wasn't sure where I wanted to go with any of this. I went to graduate school at NYU and got my MA. In 1978, Jonas Mekas asked me to take over what was then an experimental film column at the SoHo News and that's when I began writing professionally. I decided I didn't want a PHD. I just became a writer, but not directly, because then I went to The Kitchen where they asked me to become the film and video curator. I did that for four years while I was still writing a bit for Artforum, and then in 1987 I went to The Village Voice and was there for over 15 years.
What kind of changes have you seen in the world of film criticism?
Well, there's been a huge change and that is that very, very few people get paid decent money anymore. Very few people can make a career in film criticism, like I did for the years that I was at The Village Voice. You either must be independently wealthy or you have to do this because you want to do it, but you can't afford to take very much time doing it. So, there are a lot of people who are writing online, and they're not getting paid, and a lot of people who are just writing on Twitter, and a lot of people who are writing because they must fulfill a publishing requirement if they want to get tenure at a university, but they're really academically based. As a result, I don't know if there's less serious film criticism, but there is certainly more bad film criticism, and more ill-informed film criticism.
Part 2 is available to read here!